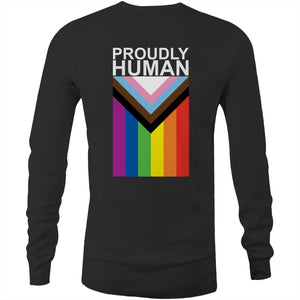 "Proudly Human" design printed on back of garment.
Part proceeds from the sale of this item during August until the end of September will go to the Wear It Purple organisation (VIC) to provide programs and support to LGBTQIA+ youth across Australia. cards to find out just how weird (or not) you might be.
Wear it Purple was founded in 2010 in response to global stories of real teenagers, real heartache and their very real responses. In 2010, several rainbow young people took their own lives following bullying and harassment resulting from the lack of acceptance of their sexuality or gender identity.
One member of this group was 18 year old Tyler Clementi who took his own life after being publicly 'outed'
as gay by his roommate, prompting a frenzy as reports poured in of various young people sadly in the same situation.
As the world saw the faces of precious young lives lost, some young people found a new sense of conviction and
purpose to ensure that young people everywhere would know that there were people who did support and love them.
Since 2010, when Wear it Purple was co-founded by Katherine Hudson and Scott Williams,
"Wear it Purple" has developed into an international movement.
What started out small has now grown; however the message remains the same.
Everybody has the right to be proud of who they are.

So join us this year, on Friday the 26th of August to celebrate Wear it Purple Day.

Relaxed fit
Crew neck, longer body, cuffed sleeves, split detail at sides, slight drop at back
Heavyweight – 200gsm
100% carded cotton
Neck ribbing, side seamed, shoulder to shoulder tape, double needle bottom hem, preshrunk to minimise shrinkage.
Colours: Black
SKU: AS_5029